In 2013, Louis Lebbos and Muhammed Mekki started the journey of AstroLabs to address the challenges they faced and support the ecosystem they were part of when scaling their own tech company—investing in tech talent, streamlining setup & scaling, and instilling entrepreneurship in what was a budding ecosystem back then.
After successfully scaling AstroLabs, and piloting first-of-a-kind entrepreneurship & digital upskilling programs across MENA, long-time AstroLabs partner & collaborator Roland Daher officially joined the team and soon took the lead as CEO. With the help of a proactive team and key ecosystem partners, they've scaled the AstroLabs we know today.
MENA's trusted partner in solving the innovation challenges of tomorrow by building the technology landscapes of today.
Today, AstroLabs provides a holistic approach to building competitive ecosystems and globally attractive markets by running digital & entrepreneurship programs, expansion and team scaling practices for high-growth companies, a digital academy for talents and entrepreneurs, as well as a vibrant community across 3 coworking spaces in the UAE and Saudi Arabia.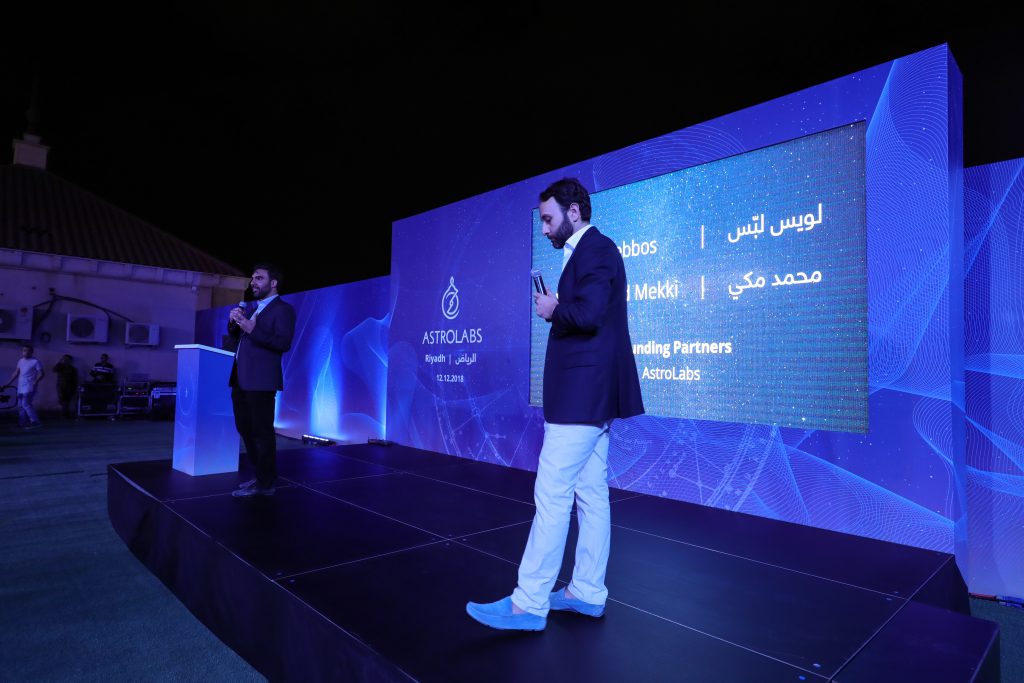 ---
---
Foundational Years
AstroLabs, MENA's leading technology ecosystem builder, was founded a decade ago with the vision of fostering a vibrant entrepreneurial ecosystem in the region. The company launched with the piloting of the "scaling online startups" program, which mentored over 100 entrepreneurs from multiple countries across the MENA region, including Saudi Arabia, the UAE, Egypt, and Bahrain, providing them with the support they needed to solve their early-stage entrepreneurial challenges. This program was the beginning of a much larger effort to accelerate the growth of the region's digital economy.
The foundational premise was simple: matching immense local potential with the digital know-how needed to launch and scale innovative solutions in MENA- which set the stage for the Digital Academy.
The first and oldest of products, the AstroLabs digital upskilling programs have helped over 4,000 individuals develop the skills needed to succeed in the fast-paced world of technology. These programs cover a range of topics, from coding and data analysis to digital marketing and digital channel optimization.
---
The number of tech talents in the UAE and KSA has seen an increase in recent years. According to the World Economic Forum, the number of tech talent in the UAE has increased by 35% since 2013, while in Saudi Arabia, the number has increased by 45%.
---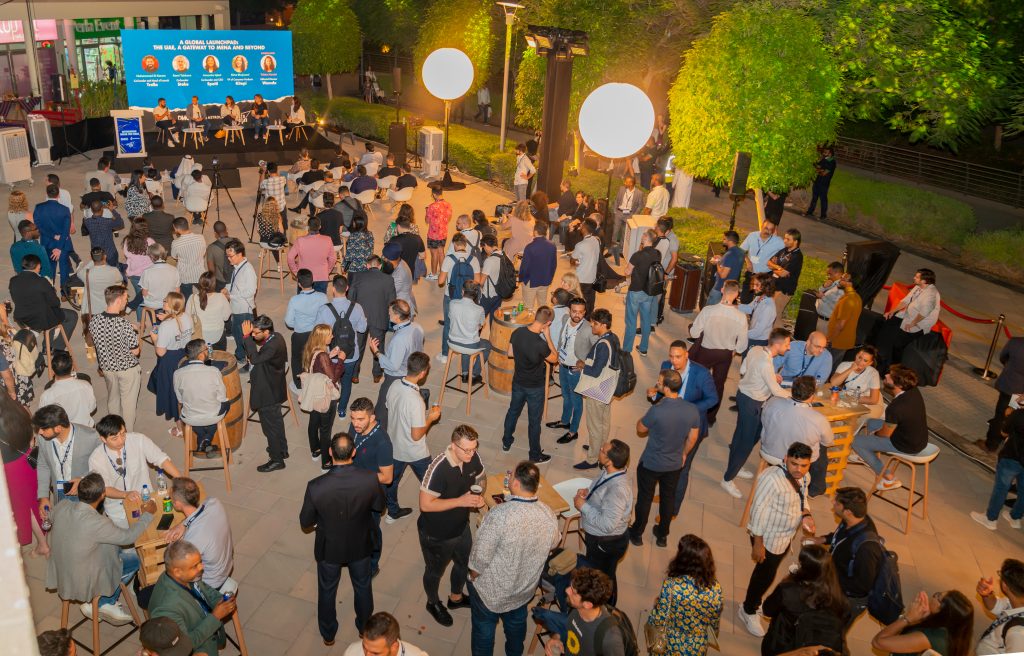 Building Proactive Communities
Since its launch, AstroLabs has become a hub for tech and digitally-enabled entrepreneurs, providing them with access to resources, knowledge, and an expansive network of local experts and turnkey partners.
In 2015, AstroLabs opened its first coworking space in Dubai's Jumeirah Lakes Towers (JLT). The space was designed to provide a vibrant and supportive community for tech and digitally-enabled entrepreneurs, offering them the resources they need to scale. With the rapid growth of the entrepreneurial and tech ecosystem in the UAE, the second coworking space, "Lakeside," was open to house global and regional innovators.
Since then, the AstroLabs coworking community has helped set up and license more than 700 global and regional companies in Dubai, including global giants like Deezer, Deliveroo, and Ubisoft.
---
The number of tech startups in the UAE and KSA has grown significantly over the past decade. In the UAE, the number of technology startups has grown by 300% since 2013, while in Saudi Arabia, the number has increased by 500%
---
In 2016, AstroLabs doubled down on its programs to launch its tailored programs division officially. This division runs accelerators and incubators for startups, fast pilot programs for corporations, digital upskilling programs for teams, and ecosystem-building initiatives for small and medium-sized enterprises (SMEs) on a national level.
Introducing fast pilot programs, the team designed a sustainable and proactive framework of collaboration between startups and corporates to solve high-impact innovation challenges. This model, as piloted in the Chalhoub Greenhouse Accelerator Program, invited top-tier global and regional startups to engage large organizations and propose their proof of concepts for solutions that could either enhance technology & operations or expand sales & market segments.
In promoting digital transformation and an entrepreneurial mindset, AstroLabs primed industry movers so they can achieve unprecedented levels of growth and fulfillment across key sectors of digitization, including e-commerce, fintech, logistics, healthcare, hospitality, media, and gaming. Through these programs, AstroLabs has upskilled over 10,000 individuals in digital transformation, incubated over 1,000 startups across the region, and accelerated over 400 companies.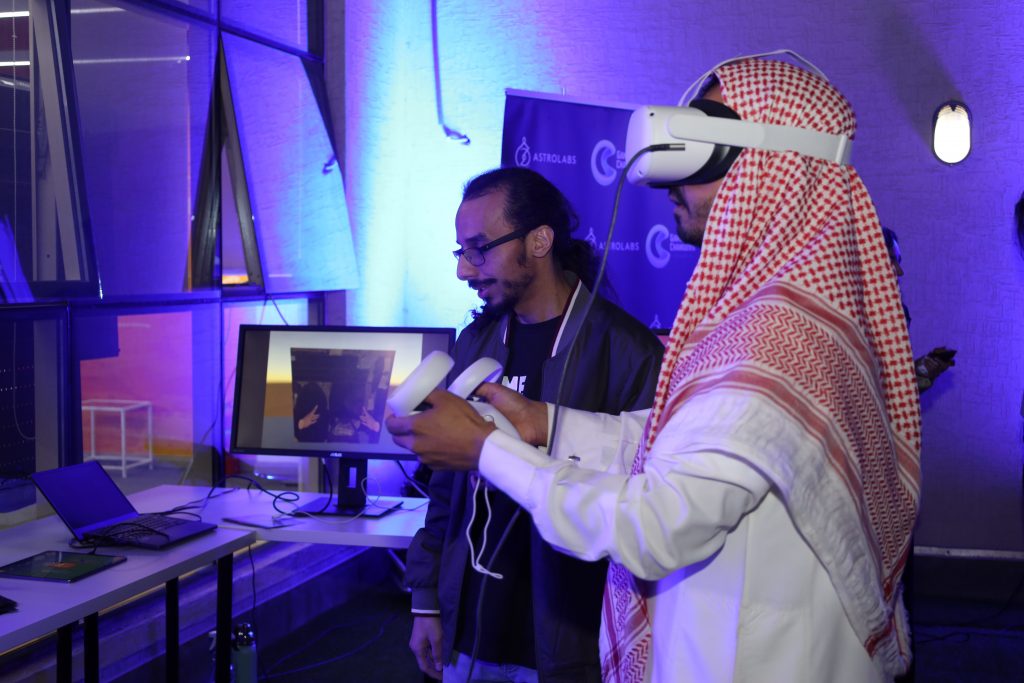 Designing the Future of Digital Economy
In 2018, AstroLabs received the first international incubator license in Saudi Arabia, allowing it to officially expand its operations in the kingdom.
The company launched its first coworking space in Riyadh, piloted the Forward KSA Accelerator (six years after the first SOS program), and launched its "Enter KSA" program, which helps global and regional companies expand into Saudi Arabia. This program developed its proprietary 20-step process that's unique to AstroLabs local expansion experts, and it has helped over 300 global and regional companies establish a presence in the kingdom.
The debut Forward KSA Accelerator program was the first of its kind to work with early-stage tech startups based in Saudi to solve their challenges and elevate their offering. 17 Startups graduated in the first cohort of the program, with many continuing to build their ventures and raise remarkable funding rounds.
This was a pivotal moment for AstroLabs as it spearheads building the talent, capabilities, and infrastructure needed to set the stage for what will be a historical transformation in Saudi Arabia. More importantly, while the team enabled global and local players to take part in designing the future of the digital economy in Saudi Arabia (as mandated by Saudi Vision 2030), AstroLabs was able to bridge its innovation communities through the exchange of knowledge and expertise across all the markets it operates.
AstroLabs has also been instrumental in helping to build the tech and entrepreneurship ecosystems in the region. The MCIT Gamechangers program has been the largest gaming accelerator program in Saudi Arabia to date. It has trained 43 game development enthusiasts and launched them into 10 licensed gaming studios, helping to increase the number of gaming studios in the kingdom by 50% in 2020.
The Vibes AlUla SME Enablement program has been another success story in transforming local SMEs into proactive economic contributors and tourism industry leaders. The first 2 cohorts enabled 29 local SMEs and created over SAR 6.6M in revenue, 70 new jobs, and 180 accommodation units in AlUla, with 2 more cohorts in the upcoming year.
From solving pain points to driving the growth of the digital economy, the AstroLabs journey was one of ecosystem and talent building. In a unique position to connect and collaborate with all key stakeholders, from Government Entities and corporate organizations to SMEs, startups, and entrepreneurs, the 10-year journey of AstroLabs has been able to elevate the entrepreneurial potential of our local markets and build its digital readiness ahead of what seems to be, the next critical leapfrog in technology and innovation for MENA.
---
Get your insight on innovation and SME building straight from the market. Sign up for our monthly dispatch here.