The recent visit of the South Korean President, Yoon Suk Yeol, to the Kingdom led to the signing of 52 key agreements at the Saudi-Korean Investment Forum this week, covering key areas like investment, trade, energy, and the automotive industry. In this deep dive, we unpack the significance of this announcement for the Kingdom.
Saudi Arabia is rapidly transforming into a global hub for manufacturing and production, driven by Vision 2030 objectives. With over 11,000 factories already operational as of the second quarter of 2023, and industrial exports valued at 106 billion SAR ($28 million dollars) – the momentum is tangible. The roadmap ahead is bold, tripling the industrial GDP to reach 895 billion SAR ($238 billion dollars) by 2030, doubling job opportunities to 2.1 million, and aiming for industrial exports of 557 billion ($148 billion dollars) SAR, as part of Saudi's National Industrial Strategy as mentioned in the Kingdom's pre-budget statement for 2024. These recent advancements are not just steps, but giant leaps towards achieving these monumental goals.
The influx of investments typically signals a thriving economic environment in any country, often leading to heightened demand, particularly in sectors like manufacturing and automobile. For companies in these sectors, expanding operations to Saudi Arabia could indeed present a win-win scenario. This situation is encouraging for international business leaders who see the growing demand in Saudi Arabia as an opportunity. With more investments flowing in, especially like the ones from South Korea, it's becoming a more attractive place for businesses to set up shop and benefit from the growing market in the region.
Driving the Future of Saudi: Transforming Saudi Arabia's Automotive Landscape
One key joint venture that stands out is the newly announced alliance between the Public Investment Fund (PIF) and Hyundai Motor, at the Saudi-Korean Investment Forum, earmarked to catalyze an automotive manufacturing landscape in Saudi Arabia. A major incentive for auto production in Saudi Arabia is the significant local and regional demand. Saudi Arabia stands at a central point between three continents—Asia, Africa, and Europe—which gives it a strategic location advantage as a production hub. The introduction of an auto production facility in Saudi Arabia would drastically reduce the $7.35 billion (27 billion SAR) worth of auto imports and therefore result in a more favorable balance sheet, with exports to other members of the GCC amplifying the effect of lower imports.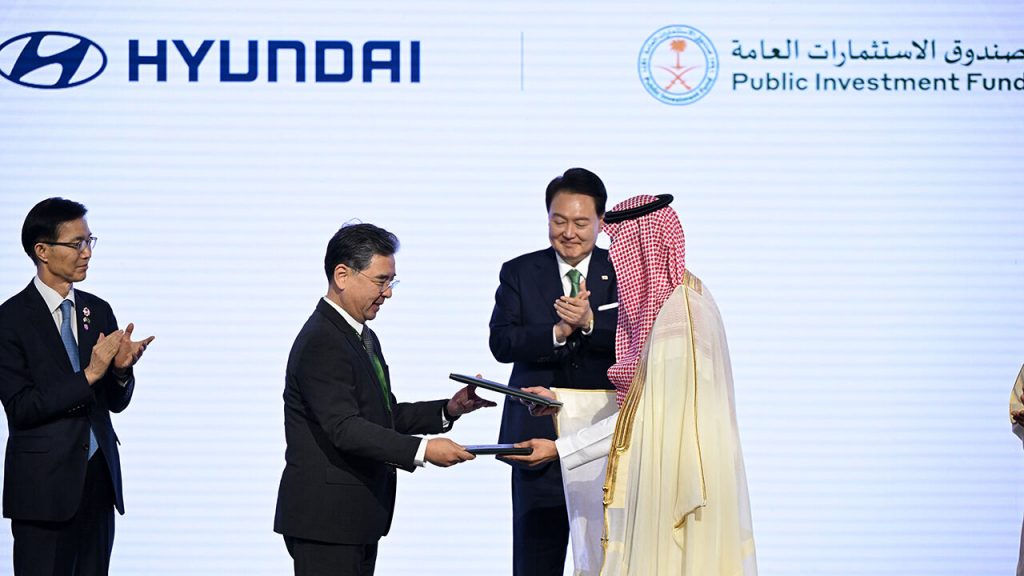 The agreement between PIF and Hyundai will lead to the establishment of a $500 million automated vehicle manufacturing plant in the Kingdom, set to operate from 2026. Infused with an investment exceeding 1.8 billion riyals, this venture resonates with the broader industrial diversification and technological goals of Saudi Vision 2030, anticipating an annual production yield of 50,000 vehicles after 2026.
This pioneering vision has been active for a while now – earlier in 2019, Saudi Arabia had allocated land for the construction of a vehicle assembly plant to increase the production of cars annually. South Korea has been a long-standing partner in this space – for years the country accounted for more than 25% of the Kingdom's car imports. This puts South Korea as Saudi Arabia's first choice for this joint venture.
The recent news carries even more weight, in light of the growing commitment in the industry over the past few years with the push towards Electric Vehicles (EV). It is crucial for Saudi Arabia as it aligns with the nation's futuristic industry growth and technological advancements agenda and positions the Kingdom in tune with global environmental and automotive trends.
South Korea is not the only partner in Saudi's automotive narrative. In June, on the first day of an Arab-China business conference in Riyadh, a $5.6B deal between Saudi's Ministry of Investment (MISA) and Chinese electric vehicle leader was signed to work closely on the development, manufacture, and sales of vehicles to support on bolstering Saudi's standing in the global automotive arena.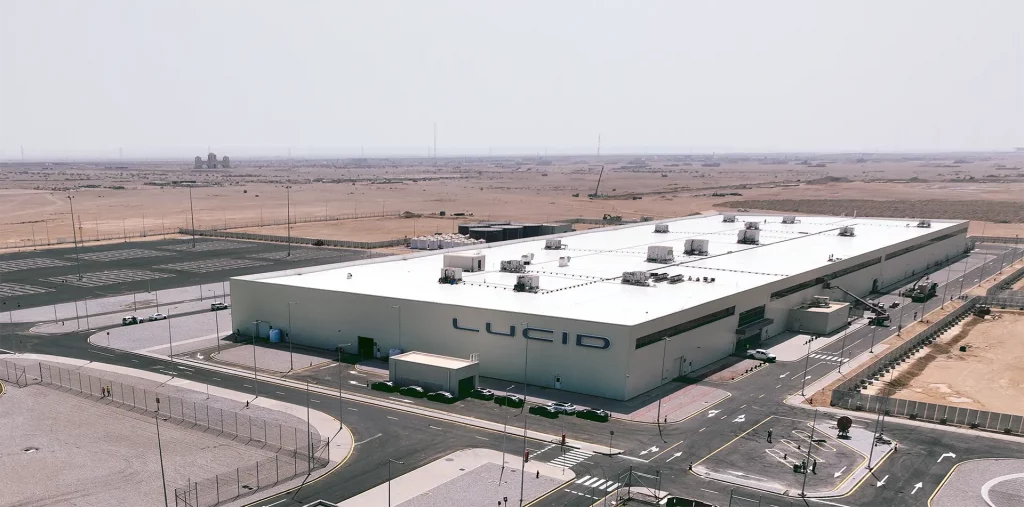 In the Saudi EV scene, Ceer and Lucid Group have recently emerged as notable pioneers – with Human Horizons joining the race earlier this year. Ceer, born last November 2022 as a joint venture between Public Investment Fund (PIF) and Taiwan's Hon Hai Precision Industry Co. ("Foxconn"), is Saudi's first electric vehicle brand, aiming to rake in over $150 million (562 million SAR) in foreign direct investment, create more than 30,000 jobs, and pump $8 billion into Saudi's GDP by 2034. Meanwhile, Lucid Group, a top-tier American luxury electric sports cars and grand tourers producer, with Public Investment Fund (PIF) owning a majority stake after investing $1 billion into the Group in 2018, inaugurated the Kingdom's first car manufacturing hub last month with an ambition to churn out 155,000 cars annually.
The Saudi government's focus on ecology, sustainability, and innovation for the future of the automotive industry means that it is likely to be ahead of the curve in terms of meeting market challenges, such as creating its regulatory framework for the automotive industry, addressing safety standards, ensuring emissions compliance, handling consumer protections, and establishing import and export regulations.
Symbiotic Opportunities for Business Expansion
Among the agreements, at the Saudi-Korean Investment Forum, is a contract between the state-run Korea National Oil Corp. and Saudi Arabia's state-run oil giant, Saudi Aramco, to create a joint crude oil reserve of 5.3 million barrels at a storage facility in the South Korean city of Ulsan by 2028, and it exemplifies a shared dedication towards sustainable energy security – this endeavor underscores a strategic evolution beyond traditional energy fortress.
South Korean investments in the Kingdom, valuated at an impressive $15.6 billion (58 billion SAR), from the signed MoUs, at the Saudi-Korean Investment Forum, signal a profound belief in a technologically advanced, sustainable economic narrative. These investments are poised to pique the interest of energy-centric entities, spotlighting Saudi Arabia as a lucrative frontier for sustainable energy investments. Here, we can expect a surge in interest from energy-focused companies eyeing Saudi Arabia today. 

In 2021, AstroLabs expanded Yellow Door Energy to Saudi Arabia from the UAE, 5 years into the announcement of Saudi's Vision 2030, coinciding with the sector's visible traction in the Kingdom. Yellow Door Energy has been an active contributor in the energy industry in the Kingdom. Being present in emerging economies such as the Middle East and Pakistan, the company provides solar leasing solutions, allowing businesses to reduce electricity costs and carbon emissions in line with the Saudi Green Initiative under Saudi Vision 2030 and the Kingdom's Net Zero by 2060 commitment. This further expands Saudi Arabia's position as a growing hub for foreign investments.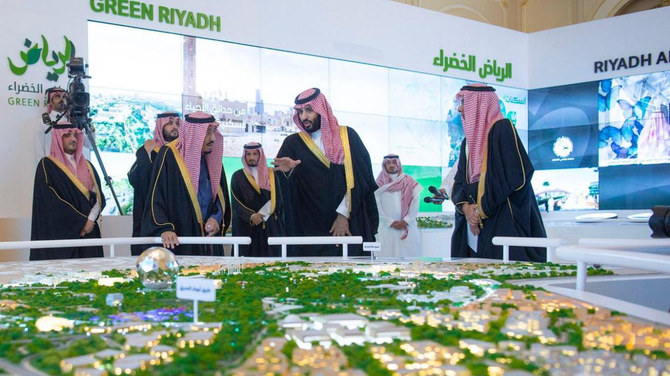 The Saudi-Korean economic partnership is another step towards making technological innovation more economical, aligning with global sustainability principles. It invites the global business community to the forward-thinking business environment within the Kingdom – a promising avenue for operational expansion.
The Hydrogen Oasis initiative, another one of the conversations with South Korea this week, articulates a shared aspiration towards sustainable energy paradigms. For this, EPCO, POSCO Holdings, and Lotte Chemical signed a Letter of Intent (LoI) with Saudi Aramco to produce blue ammonia at a project cost of US$15.5 billion. This, along with the Green Hydrogen project, Smart Infrastructure project, and the Renewable Energy project, manifests a shared commitment towards a technologically fortified and sustainable energy future.
Realizing Vision 2030: Saudi Arabia's Transformative Journey
South Korea acknowledged the rapid transformation in Saudi Arabia and explored other strategic initiatives of economic collaboration that extend beyond the scope of construction and energy sectors. As part of setting forth the activation of this strategic alignment, the signing included a visa exemption pact for holders of diplomatic, special, and official passports between the governments of Saudi Arabia and Korea, an establishment of the Strategic Partnership Council between the governments of Saudi Arabia and Korea and the implementation of a joint statistical cooperation program between the General Authority for Statistics in Saudi Arabia and the Korean Statistical Office. The exchange between these two countries has been enduring, as the visit marks 50 years of construction cooperation between Saudi and South Korea.
Overall, the impact this collaboration can bring to Saudi Arabia is multifold – it provides a practical example of how well-considered international alliances can spur economic growth and highlights the power of collaborative efforts in creating a favorable environment for global enterprises. On one hand, the Saudi-Korean Investment Forum would bear fruit on the country's financial development within key sectors along with a plethora of job opportunities in these sectors, and on the other hand, it gives multinational companies a fertile ground to tap into the opportunities being born out of this collaborative development. Through such partnerships, Saudi Arabia is not only accelerating its economic progress but also solidifying its position as a key player on the global stage, ready to tackle the challenges of a future-oriented market.